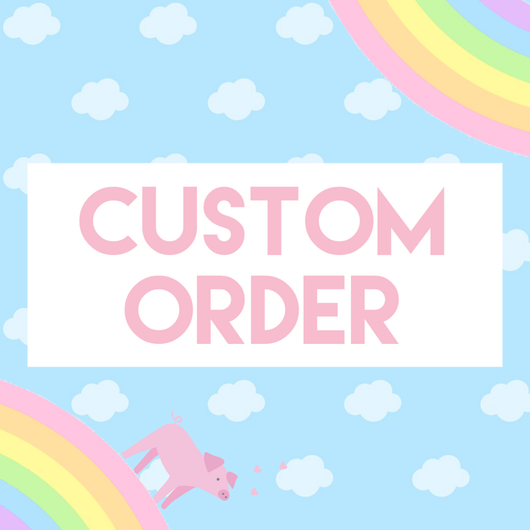 Custom Order
Regular price £20.00 Sale
PLEASE NOTE THIS OPTION IS

ONLY

FOR PRE-APPROVED QUOTES FOR CUSTOM WORK - DO NOT PLACE AN ORDER UNLESS YOU HAVE BEEN DIRECTLY IN TOUCH WITH EMMA AT LITTLE PIG JEWELLERY DESIGN AS THERE IS A WAITING LIST FOR DESIGN WORK. PLEASE FAMILIARISE YOURSELF WITH THE PROCESS AND READ ALL OF THE FOLLOWING INFORMATION:
To select the correct price for the order you are placing, click on the arrow in the price field and click the correct amount from the drop down menu. It is also important to include what your order relates to in the notes section to keep all information in one place - many thanks for your understanding in order to make the process as smoothly as possible. 
Please carefully read all of the information on this page before going further as custom design work cannot be refunded or exchanged.
This option is for selecting the payment of customisation of existing design or pieces that are being designed for you. Before selecting any of these options, you will have discussed the price and full design request with Emma first. If you are yet to do this, please see the Custom Design page of the website for more information before discussing via email to hello@littlepigjewellerydesign.com
PLEASE USE THE NOTES BOX TO ADD IN THE INFORMATION THAT RELATES TO THINGS ALREADY DISCUSSED ABOUT YOUR ORDER TO KEEP ALL INFORMATION IN ONE PLACE - THIS IS

NOT

FOR MAKING ADDITIONAL REQUESTS AS THE DESIGN WORK WILL HAVE ALREADY BEEN QUOTED i.e red pencil necklace or see DM on Instagram under 'username" etc. Thank you for your understanding in this. 
RE-COLOUR OR ENGRAVING TWEAK:
If you are having an existing design on the website in a different colour or engraving changes etc on a non personalised piece, then please add the other item to your basket as well as the additional custom cost from this section. For instance if you are purchasing a Mighty Pen and have discussed a different wording to be engraved, you should add the mighty pen to the basket and then the customisation cost that has been pre-agreed with Emma in this section. 
FULL CUSTOM DESIGN:
If you are having a piece designed and made from start to finish, you will have already discussed the price and design requirements with Emma and should use the options here to make payment for your jewellery.
Please read before making payment: If your order contains custom-made or requested items that are being designed by Little Pig Jewellery Design, you understand that these designs are the original artwork of Little Pig Jewellery Design. The designs may be used in the future for other customers to order from or within a general release for sale online or directly to the public at the discretion of Little Pig Jewellery Design. Images of the finished products may be shared on Little Pig social media accounts and website. If your order relates to artwork or imagery owned by you, Little Pig Jewellery Design will not replicate your order unless it is for you directly or you specify your permission for Little Pig Jewellery Design to use it. I am unable to replicate designs of other designers, copy or create pieces that fall under copyright in any way. Little Pig Jewellery Design also reserve the right to politely decline custom design work if this falls outside the brand values of colour, creativity and hope or if other commitments mean that working together is not possible - thank you for your understanding in this and I look forward to working with you.